SANKEI TCH 8800 STEREO ENTERTAINER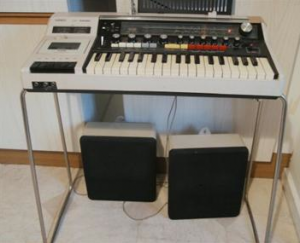 A wonderful performance workstation from the 1970s, replete with
built-in rhythm machine, organ, cassette player/recorder, AM/FM stereo
receiver, microphone/aux/phono inputs & external 4Ω stereo speakers. A perfect all-in-one unit from a bygone era. A nice-looking unit is up for auction now (April 4), if you are interested in owning your very own TCH 8800. UPDATE 4/10/11:  Sold for $186 USD!
Sankei also made some nice boomboxes later on.
Thanks, Sankei!